The U.S. Coast Guide Vessel Documentation
If you are considering owning a boat, one important step in the process is obtaining the US Coast Guard (USCG) vessel documentation.
Also, if you already owned a boat that's flying on water, you should check your USCG vessel documentation status from the Work Packet Search Page on (CGMIX) to know when to file for renewal or your application status.
If you've just acquired a boat from an owner, you need to file for USCG documentation for vessel change of ownership.
The USCG document is issued by the United States Coast Guard and serves as proof of ownership for your vessel.
It is imperative to understand the requirements and the process for getting Coast Guard documentation for your boat, so in this blog post, we will discuss the basics of the Coast Guard documentation process and what you need to know.
Why do you need to Document your vessel?
The Coast Guard documentation process is not only essential for any vessel that is going to be operated in U.S. waters, but there are also many advantages of USCG documentation.
Documenting your vessel is the only way to establish a legal link between you and your vessel, as well as prove that the vessel has a legitimate registration number.
A valid Certificate of Documentation (COD) provides proof of ownership and is required for vessels engaged in commercial activities such as chartering, fishing, or towing business.
It also allows your vessel to be identified easily by port authorities and law enforcement agencies in U.S. waters.
Lastly, it grants you the privilege of flying the U.S. flag on your vessel.
Documentation also serves as a form of insurance; with a documented vessel, your rights and claims are protected under U.S. maritime laws if you are ever involved in a marine accident or maritime dispute.
In short, documentation is not only a requirement but is also an important part of protecting yourself and your vessel.
How to Register your vessel with USCG?
Before you can take your vessel out on the water, you must register it with the U.S. Coast Guard.
This is done by filing an Application for Initial Documentation. The document must be completed and submitted along with a fee to the US Coast Guide National Vessel Documentation Center (NVDC).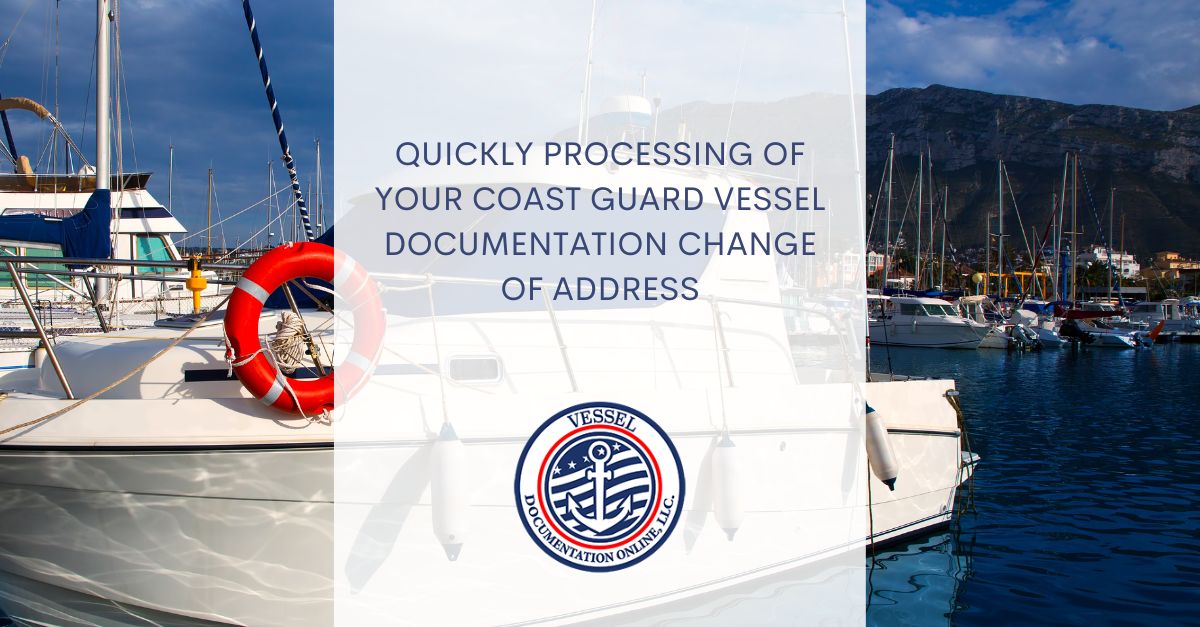 The NVDC is the only organization authorized to receive, process, and maintain documents associated with recreational vessels.
However, before submitting your application, you must make sure you have all of the necessary information.
This includes the boat's name, hailing port, official number, and hull identification number.
You will also need to provide proof of ownership, such as a bill of sale or a notarized letter.
You may also need to include additional documents such as a Certificate of Number (for boats registered in states that issue them) or a form proving the boat was built in the United States.
Once the paperwork is complete, you should submit your application to the NVDC.
If approved, you will be issued a Certificate of Documentation within two to four weeks.
From the time of submission of your application to the issuance of the certificate, it can take 2 to 4 months.
How to Renew your USCG Vessel Registration?
Renewing your vessel registration is an important part of the Coast Guard documentation process.
To renew your registration, you will need to file a renewal application with the U.S. Coast Guard at least 90 days before your current registration expires.
In addition, you will need to provide evidence of your citizenship status and a Certificate of Documentation, if applicable.
After submitting your application, you can expect to receive your renewed registration within two weeks.
If you would like to outsource an agency for your vessel registration or renewal to obtain COD, or to know the full requirements needed, you can check this guide for more details.