Effective inventory keeping and management is crucial for business owners to track goods coming in and going out, minimize costs on stock management, and maximize profits.
There are several different methods or approaches that people can use to keep track of their inventories. 
The choice of method depends on factors such as the nature of the products, the size of the business, available resources, and specific requirements.
What are QR Smart Label Stickers?
QR smart label stickers are adhesive labels that contain a Quick Response (QR) code on them. 
These codes can be scanned by the maker's scanning app on the users' smartphones or other devices equipped with QR code readers.
QR codes are two-dimensional barcodes that can store various types of information, such as text, URLs, contact details, or product information.
QR smart label stickers are commonly used for marketing purposes, inventory management, and product tracking.
By scanning the QR code on the sticker, you can quickly access information about the items.
Also, they are typically made of durable materials to ensure they can withstand various environmental conditions. 
They can be affixed to products, packaging, posters, signs, or other surfaces.
SmartLabels QR-coded Stickers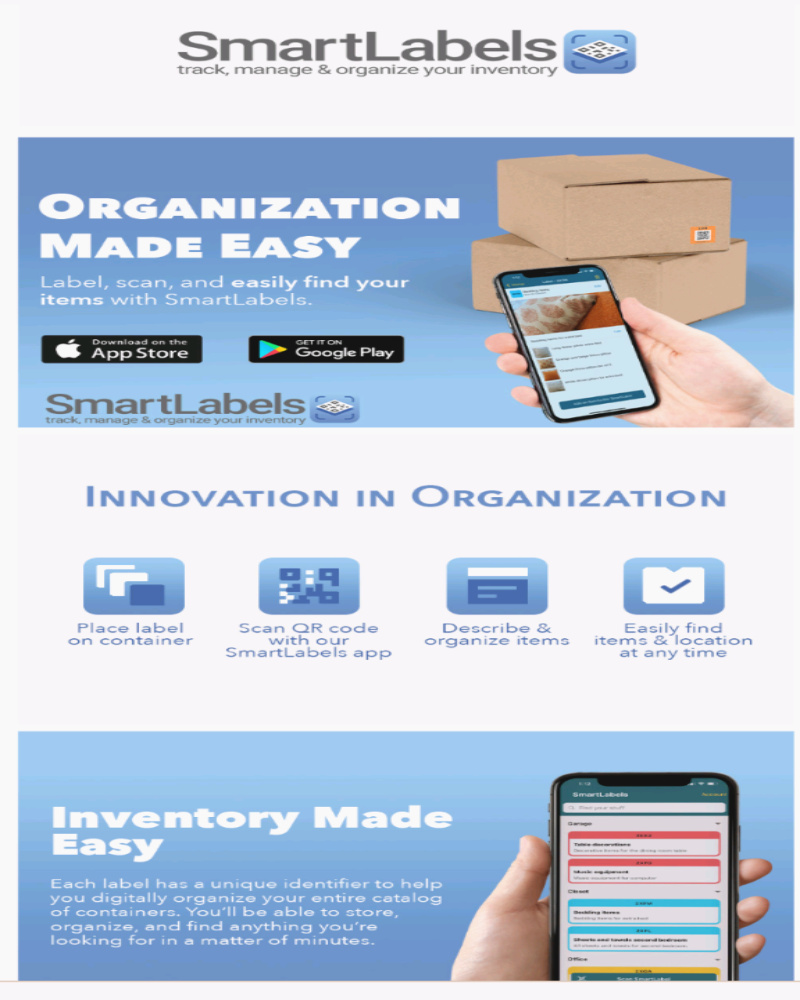 SmartLabels offers an innovative inventory management solution to streamline your organizational needs.
The color-coded QR code stickers and the app makes organizing inventory easy on the go.
Gone are the days of stock management in Excel or Google Sheets, it's a stressful stock control system.
With Smart labels stickers, you can effortlessly manage and track your belongings. 
Smart Labels stickers pack comes in four color-coded sticker sheets, which help you to establish a more efficient system for organizing various items, including crafts, toolboxes, baby clothes, and cleaning essentials.
Each Smart Label has a unique identifier (tracking number and QR code) that enables the seamless digital organization of your entire container catalog. 
Tag your containers and boxes as you prefer, the way you catalog your items is left to you.
Download the Smart Label scanning app, scan each sticker, and input the necessary information to help you track your boxes.
The Smart Labels app can be downloaded on the Google Play store or Apple Store for free.
However, you'd have to pay to use the app the following year, but it's cheap, and less than $12.
In just a few minutes, you can store, organize, and swiftly locate any item within your inventory.
Enhance your organizational process by adding pictures, names, and descriptions to each item in your storage boxes.
The best part of digital inventory management is the mobile control of your storage management on your phone. 
With just a few taps on yAndroidroid, iPhone, or iPad, you can effortlessly organize and track your items in the various boxes you've stored them in.
To find your items later, you don't have to struggle to find their location, simply search the item on the app, and it tells you the tracking number, the color of the sticker on it, and the location of the box, then you can find your item easily.
These scannable smart tags are good to find your items after a long storage period or when moving your goods to a new location.
Conclusion
With Smart Labels, digital inventory keeping and tracking become easy and cheap.
QR-coded stickers are a cheap inventory control system compared to other forms of digital inventory management like inventory software.
You can use Smart Labels stickers to organize your entire catalog of boxes and totes.