What is a Pack Rat Tool Box?
Pack rat toolbox is a drawer unit designed by the Weather Guard to offer secure and organized storage solutions for heavy-duty tools and equipment.
It's a simple flat truck bed toolbox with 1 sliding drawer. This storage box is named after "pack rat", a type of rodent that is usually found packing and hoarding items.
This slide-out toolbox is often used by professionals in a variety of industries, including construction, plumbing, and electrical work.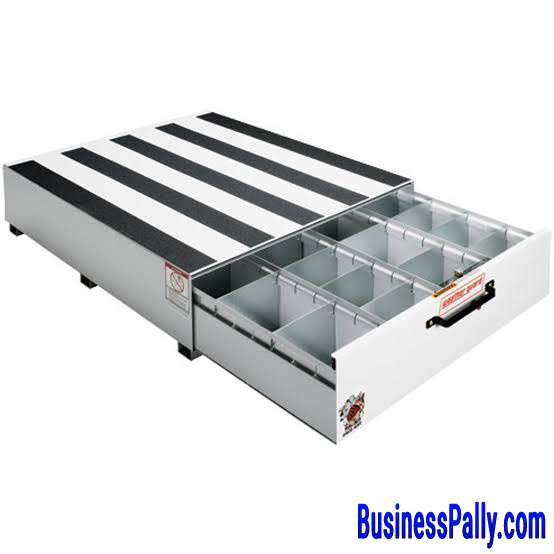 Design and Features of Pack Rat Tool Box
Packrat toolboxes come in different shapes and sizes to serve your different needs. Popular units are 308-5, 338-5, and 310 models.
It is made from heavy-duty alloy steel and aluminum, comes in white with a black stripe, and weighs between 200 to 300 pounds depending on the size.
Weather Guard offers at least 1-year warranty on most of the storage toolboxes, and you can get pack rat toolbox replacement parts if damaged.
This toolbox features 1 drawer with several compartments, designed to be durable, weather-resistant, and keep your hand tools.
These toolboxes come in a variety of sizes, from compact units that fit in the back of a pickup truck to larger units that can be used in a workshop.
This drawer toolbox is designed rugged for heavy use and requires assembly but I bet you would find it easy to mount in the bed of your truck.
While it's heavy, it is designed in such a way that the drawer slides smoothly, even when fully loaded with tools. Also, it does not sag.
Pack rat toolboxes are designed to be secure, with features like locking drawers and tamper-proof latches that prevent unauthorized access.
Some pack rat toolboxes can be customized with additional features, such as work surfaces, power outlets, and lighting.
How to Use Pack Rat Tool Box
Using this storage box is relatively simple once it's installed properly.
As I've said, they come in different shapes and sizes so you should get one that fits your needs.
You should consider the type of tools you need to store, as well as the space you have available in your vehicle or workshop.
Pack rat toolboxes have many dividers depending on the size so you can organize your tools and equipment in a way that makes sense for your work.
Even when your tools are not many, distribute them in the dividers. Also, you should keep heavy tools in the middle of the toolbox so it does not sag when the drawer is fully extended.
The dividers make it easy to find your tools as you group them accordingly, you can also label compartments to make it easier to find specific items.
After use, fasten it to prevent it from shifting or sliding during transport. You can also use tie-down straps or other securing devices to keep your box in place.
Before you store your storage box for another use, don't forget to lock your toolbox. It comes with a locking system, and keys to lock and unlock.
Conclusion
Pack rat toolboxes are easy-to-use sliding drawer storage solutions to keep tools and equipment organized and easy to find.
They are mounted in pick-up vehicles or others for easy transport to your job site.