AIHOOR wireless earbuds come in different models, and the latest A4 is equipped with premium features to enjoy wireless connectivity. The following are the takeaway from Aihoor wireless headphones.
Aihoor Wireless Earbuds Review
AiHoor wireless earbuds have a very stylish and sleek design just like the latest Binnune wireless gaming headphone. In addition, these have a metallic design which makes them more attractive.
Also, these are comfortable and lightweight, so you can use these for long hours without any weariness.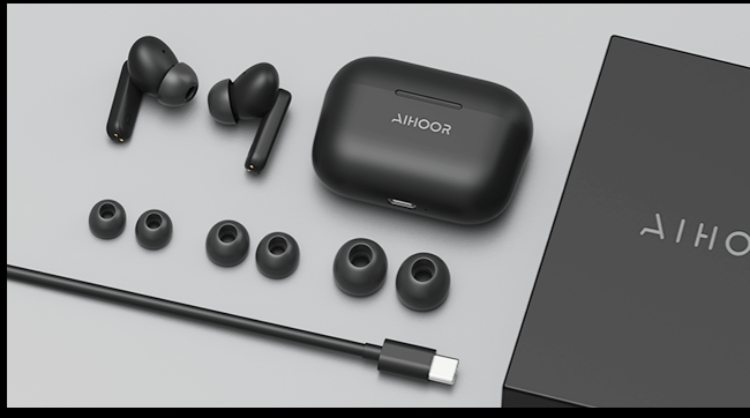 The performance of Aihoor earbuds is highly supreme with the Bluetooth 5.0 tech, and this earbud is designed with various amazing features.
The treble notes and bass quality of these wireless buds are perfect, giving the listeners a great music and movie experience.
Aihoor wireless earbuds also feature 10mm PEEK+PU drivers to produce high-quality sound.
Aihoor wireless earbuds come up with long-lasting battery life.
It can provide you with about five hours of music listening experience just by charging it once.
Also, the time required for charging completely is around one and a half hours. Thus you can enjoy an uninterrupted music session.
The noise cancellation feature of these earbuds is supreme, but it's only available in Aihoor 4 model.
In addition, these are made with the latest Bluetooth technology, which offers you high-quality sound and a great calling system.
You can get the benefit of using these wireless earbuds with any Bluetooth-compatible device. These devices can be tablets, laptops, and smartphones.
The inline controls of these earbuds make these functions work more amazingly, and you can mute or adjust the volume right on the headphone.
High Definition Microphone
You will enjoy high-quality music and phone calls with high-technology features.
In addition, the phone calls are seamless, which gives you another good reason to use these.
How to Pair Aihoor Wireless Earbuds?
For using the AiHoor wireless earbuds, just know the basic points. First, take out the earbuds from the charging case by opening its lid.
The earbuds would be turned on automatically after taking them out and become available on any Bluetooth device that's open for connection.
To pair your Aihoor with your device, connect them to the Bluetooth-enabled device by searching for their name on the device.
For more functions, such as adjusting volume, you can press the multifunction buttons on the earbuds.
Then, if you want to turn it off, you just need to put it back in the charging case. 
FAQs about AIHOOR Wireless Earbuds
How do I turn on Airhoor wireless earbuds?
Aihoor wireless headphone is turned on automatically when you take them out from their case.
Do Aihoor wireless earbuds work with iPhones?
Aihoor earbuds work with both android and iOS device, thus working perfectly with iPhone.
Why are my Aihoor wireless earbuds not pairing?
Ensure your Aihoor headphone battery is not low, your Bluetooth device is nearby, and can detect another device with open Bluetooth, then connect your device.
If it's not pairing, put the Aihoor earpiece in the case, take it out again, and repair it.
How to Play or Pause on Aihoor wireless earbuds?
To play or pause your music, simply tap the touch panel once.
How to Turn up or Turn down the Volume on Aihoor?
To increase the volume on Aihoor, press down on the side of the right earbud, and when you do the same on the left earbud, the volume decreases.
How to Play Previous or Next Track from your Aihoor earbud?
If you double-tap on the side of the right Aihoor earbud, it jumps to the next track. to play the previous track, double-tap on the side of the left earpiece.
How to Answer or End your Call on Aihoor wireless earbud?
To answer your incoming call on Aihoor, tap the touch panel once. And to end or decline a phone call, tap and hold the touch panel for 2 to 3 seconds.