What is Binnune Wireless Gaming Headset?
Binnune wireless headset with microphone is one of the accessories produced by a fast-growing company in China, Binnune.
The black and red-market ear-cup headset comes with a 3.55mm audio cable, wireless USB dongle, 1 Lithium-ion battery and a USB cable for charging the headset.
Binnune wireless gaming headset with a microphone comes in different models and designs: Binnune wireless 01 (BW01), BW02, BW03.
Binnune Wireless Gaming Headset Features
Binnune wireless gaming headset with microphone is fast becoming one of the best wireless gaming headsets with low prices in the world.
With the following features, sound delay improvement when compared to a wired headset, and a price point below $50, it's worth it.
You can also compare with Aihoor wireless earbuds as they both perform excellently.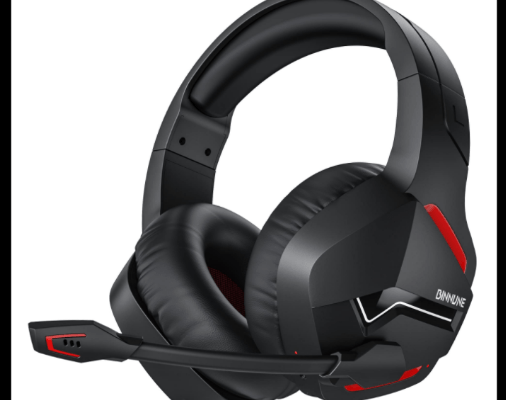 Comfort
Binnune wireless headset is easy to wear on your ear, and fits in well with padding around the ear muff.
It covers your ear well, cancels noise from your environment, and you can wear it for a long period without discomfort.
Also, it connects to your hardware pretty quickly, and the onboard controls make it easy to adjust volume, mute, pick up a call, or off the headset.
High Performance
Binnune wireless gaming headset offers great performance with a 50mm driver and 2.4 GHz lossless and high-quality sound for pro gamers.
This makes the working of the headset better, and the background sounds while playing your game can be heard clearly so you don't miss your target.
In addition, the audio system of the headset is designed for pro-level gamers to enjoy with their PS4, PS5, and PC. 
Compatible with Multiple Devices
Binnune wireless headset is compatible with multiple devices.
It can be connected by using a 3.5 mm audio jack or wireless with PC, tablets, play stations, and smartphones.
With its aux cable, you can also connect the headset to your smart TV, Nintendo, Xbox, Virtual Reality, etc.
For example, you can plug the adapter into Nintendo switch dock USB port and enjoy.
Overall it can be easily connected with Bluetooth-compatible devices.
Good Battery Life
The battery life of the Binnune gaming headset is supreme and quite impressive.
It gives you about 48 hours of battery life. You can charge it easily by using USB-C type charging in 4 hours.
Also, the headset offers auto-off features which make plugging for a long period or overnight have no effect on the battery life.
You can play video games for long sessions or listen to music just by charging it one time.
Hear Every Detail
Binnune gaming headset comes up with a 50 mm driver, which makes its sound quality effective.
The subtle background sounds are highly managed in a way that you cannot miss any minor sound. So the gaming experience would be better when you can listen to every step or shot in the game.
Low Latency
This offers low-latency wireless gaming, which is responsible for high-quality audio.
The audio latency provided by it is not more than 38ms. This is very better than some other Bluetooth devices.
So, binnune wireless gaming headset with a mic can be a good device for an overall amazing gaming experience.
How to Use Binnune Wireless Gaming Headset?
Using the wireless gaming headset is not that much difficult. However, you need to consider a few steps, follow these, and you will be ready to use them.
Connect the Binnune headset to the computer by inserting the USB wireless headset.
You are then able to listen to the music which is played on the computer through your headset.
This gives you both the options of connecting it wirelessly or by using the data cable.