In sales marketing, there are words to use to attract customers online, and it's important to not only win new customers but also retain them.
Your ability to find new customers and retain them is pivotal to increasing your sales growth.
While attracting new customers to buy your product or service is good, few marketers are satisfied with their sales from existing customers.
You need to be creative to get new customers, while you need to improve the satisfaction of existing customers to retain them.
Nevertheless, many companies prefer to rely on their regular customers and their gut feeling.
This is financially understandable, but entrepreneurially, it is risky. Here are some tips on how to keep getting new customers.
How to attract new Customers to your Business
The tendency to be frustrated and burn-out is high in cold calling, that is, when acquiring new customers who have not yet shown interest in your product or service.
As a salesperson, there are different ways to attract new customers you should know. for example, you can now attract new customers on social media, and other online platforms for free.
The following are checklists and creative ways to get new customers, and increase sales.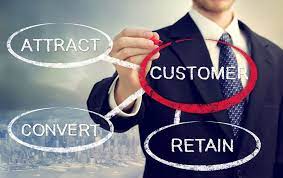 How to win New Customers Online
If you're just starting, these tips would help you to acquire new customers and increase sales.
Set Realistic Goals
Acquisition results are often poor because there are no clear goals.
To avoid this, you should formulate smart and defined goals that are achievable according to your timeline.
For example, "I want to win 500 new customers by the end of the year.
You need to define how exactly you want to attract new customers and be creative with your approach, especially if you want to win customers from competitors.
In this way, every sales employee can see what they should achieve in the short and long term.
In addition, such an approach can be seamlessly followed by measures for motivation.
Be Strategic with your Approach
Depending on your business industry and product or service, you should choose one of the following two strategies: Push or Pull
The push strategy pushes for an immediate conclusion.
It fits in when the new customer is already familiar with your product or when your product is far better than the competing products, therefore, an immediate commitment to your product seems likely.
The pull strategy is aimed at being present with the customer so that if he needs the product on offer, he will come back to you.
That is why it is particularly important to present yourself as a competent partner, to keep in touch, and to constantly cultivate your business relationship.
Processes
Many salespeople rely solely on their knowledge of human nature. Although this is also an important aspect, it is no reason to be systematic.
If you plan the structure of the acquisition process (the sequence and frequency of the measures) precisely, you're more likely to get meaningful results.
For example, determine how much new business contact a certain employee needs to acquire a new customer.
You can also take appropriate countermeasures, for example, if you have seen that sufficient measures have not yet been taken to be able to target the goals.
Organization
Choose an organization that fits your sales strategy. External sales support is suitable when dealing with one-off transactions with high returns.
In the case of continuous acquisition, it is best to take over the sales yourself.
At the same time, you work on customer loyalty and benefit twice over from new customers.
Resources
Acquiring new customers, in particular, requires a lot of resources: Time, technical how, data, and budget, and you should think about getting these in advance.
It can be helpful to involve the office staff in the acquisition process in order,, not to overload sales.
Customers' satisfaction is very important for both existing customers and new customers. In addition, customers are not bound by frequent visits, but by good offers.
Positioning
While developing your marketing strategy, you need to decide which offers you want to use to attract and acquire your potential or future customers: low prices, better products, special products, or personalized services via all channels: chat, SMS, e-mail, telephone, social media,, etc.
To increase your chance of winning more customers from the market, you need to employ more than 1 technique in the list mentioned.
Leadership
Of course, your structured acquisition of new customers must also be reflected in your internal organization.
Therefore, record all activities precisely to determine success rates and set up appropriate reward systems.
Your further training should also deal intensively with the topic of new customer acquisition.
Implementation
There are many opportunities for customer contact: personal visits, Internet, telemarketing (call center), social media marketing, and events or trade fairs.
To be successful, you should of course align the implementation tools with your product or service and your envisaged sales strategy.
Further training
Your sales representative may be confronted with unexpected situations when acquiring new customers.
Winning a new customer requires far more persuasion and knowledge than retaining existing customers or renewing existing contracts.
So they have to be trained accordingly. Targeted qualifications help here. We recommend social selling for further training.
Motivation
The quality of sales depends on motivation. If you want your reps to convince the customer, you must first get your field reps excited.
Pull out all the stops, hand out incentives, and give courage. Not only winning a new customer should be celebrated, but also the achievement of important steps in the acquisition.
Experience has shown that this is how your employees persevere better.
Concerning a long-lasting business relationship, also remember that new customers are sensitive.
Here it helps, for example, to ask whether the service was well-received, whether there was anything to complain about, etc.
This makes a good impression and promotes a still-fresh relationship.
There is no way around the systematic acquisition of new customers. If you adapt to this early on, your company will benefit from it.