Masterforce is a fast-growing brand of hand and power tools, storage solutions, and accessories in the US.
Masterforce is one of the brands of Chervon, a leading brand of storage solutions.
Masterforce products are marketed and distributed exclusively through Menards, a Midwestern chain of home improvement stores.
Masterforce Tool Box
Masterforce offers a range of hand and power toolboxes, including portable toolboxes, tool chests, and, heavy-duty toolboxes, and other storage solutions.
Also, Masterforce tool belts, tool bags, tool chests and cabinets, garage cabinet systems, workbenches, etc.
These toolboxes are designed using heavy-duty materials such as steel and aluminum, which are sturdy and can resist dents, scratches, and corrosion.
Masterforce tool boxes, also called Menard Masterforce tool boxes or triangle tool boxes come in a variety of sizes, shapes, and designs, and for different purposes.
Popular Masterforce toolboxes and sizes are small portable tool boxes, side cabinets, job boxes, and large rolling tool chests with multiple drawers and compartments in 41, 56, and 72 inches sizes.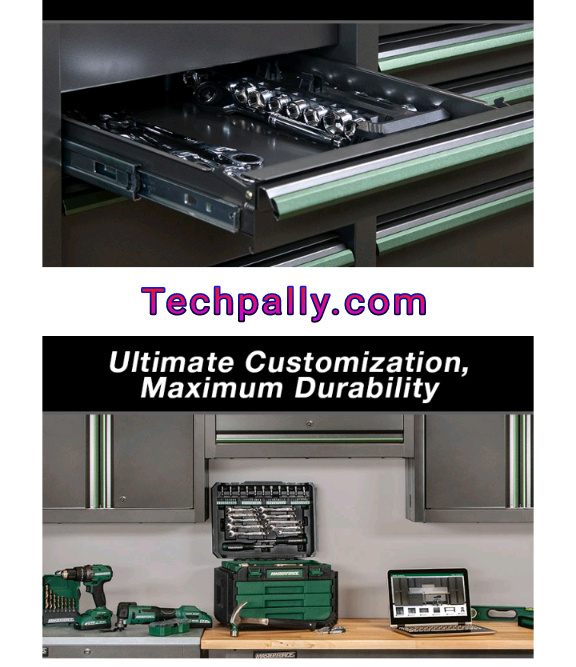 Specs of Masterforce Tool Storage Boxes
Some of the qualities found in Masterforce toolboxes are the following.
They have powder-coated finishes for durability and corrosion resistance, and to withstand tough work environments.
The finish also makes the toolbox easy to clean and maintain.
Most Masterforce toolboxes feature Heavy-duty handles and casters for easy mobility.
These ergonomic handles are comfortable to grip and make it easy to move the toolbox around.
The casters are also heavy-duty and can swivel or lock in place, providing stability and maneuverability.
Many Masterforce storage boxes have Drawer liners to protect tools and prevent them from sliding around while moving them.
Also, many Masterforce toolboxes come with multiple drawers of varying sizes, which can accommodate different types of tools.
The drawers are usually equipped with ball-bearing slides that enable them to open and close smoothly and easily.
Like many other toolboxes, it features Keyed locking mechanisms to keep your tools safe and secure.
Masterforce also offers a limited lifetime warranty on their toolboxes, which covers defects in materials and workmanship for the life of the product.
This gives customers peace of mind and ensures that the toolbox will last for a long time.
Conclusion
Masterforce toolboxes are designed with several features that make them durable, functional, and easy to use.