Germany is a popular and well-developed European country you'll love to visit, the cost of living is not high here compared to UK or US.
While the cost of the internet is not that expensive here, you may still wonder if it's actually possible to get free internet here.
You can connect to your hotel hotspot if you lodge in a hotel that offers free internet connectivity but this actually means the cost has been added to your bill.
How to get a free Hotspot in Hamburg
Let's talk about where you can connect to a free internet connection in Hamburg without paying anything for it.
Tourist attractions in Hamburg
You can get free internet access if you go to any of these tourist centers. You don't even necessarily have to get a pass, the internet is available for connection in few kilometers around the centers.
Main train station / central bus station
Elbphilharmonie concert hall
Chamber of Commerce
Wax museum – Panoptikum
Cruise terminals
Cap San Diego and Rickmer Rickmers
Kabel Deutschland Outdoor WiFi hotspot
You can also get free WiFi on public transport in Hamburg. The following are some of the places to connect to the internet free of charge.
Harburg
Wilhelmsburg
Hammerbrook
Dammtor
You can get up to one hour of internet access or data from Deutsche Telekom,  MobyKlick, and some bus stops such as St.Pauli and Mundsburg.
Vodafone hotspots are distributed all over Hamburg, but only free for a limited time.
Other Telecom and companies also offer limited internet access at no cost.
Free internet via Freifunk website
Another way to get connected to a free wireless network is via the hamburg.freifunk.net website.
Freifunk is an open, non-commercial community initiative to spread free networks to people, promote local structures, and build free, independent network structures.
It lives from private individuals, companies, restaurants, and cafés setting up open WLAN networks and connecting them.
This means that the Freifunk network is available free of charge in a large part of Hamburg. So far, over 900 private routers are taking part.
Free internet use and WLAN expansion in the city center
The big telecommunications provider, willy. tel also offers free internet connection in the inner city area of Hamburg, between Ballindamm and Gerhart Hauptmann Platz, Jungfernstieg and Ballindamm, Landungsbrücken (harbor), and Lombard bridge (city center).
By next year, it should even be available in public places and parks.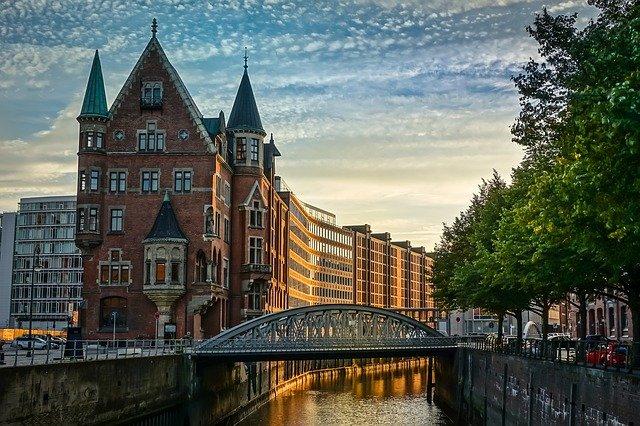 How to connect to free internet
You can connect once and then surf the internet for 24 hours without having to log in each time.
Select the MobyKlick network in the WLAN, accept terms and conditions and click on "Connect" (sometimes you have to enter your mobile phone number, then you get a 4-digit number Code via SMS, and when you
enter it or create an account)
If you want to go to a café and surf the web, for example, you must first find their access point.
To do this, check the available networks by searching for them with your mobile device. Usually, the connection with the strongest signal is the right one.
However, since the anonymous use of a hotspot is prohibited in Germany for legal reasons, a one-time registration is required for free hotspots.
The data are only used for authentication and will not be passed on to third parties.
Other free WiFi access in Hamburg
Like I said earlier above, there are also cafés and restaurants you can connect to their wifi, for example, Alex Alsterpavillion, "datbakhus" branches
(are distributed all over the city center), The Coffee Shops – Near the Alsterhaus / Neuer Wall.
You can get free WiFi from fast-food chains such as Mc Donalds or Burger King, shopping malls.
You can also get free connection from the following places
In the 36 book halls, distributed in all parts of the city
In many supermarkets, such as Rewe
At Saturn, H&M, and many more shops
In front of the Apple Store on Jungfernstieg